TravelAlaska.com Banner Ads
Travel Alaska banner ads are available on TravelAlaska.com, Alaska's official travel planning website, to any advertiser promoting tourism to/within the state of Alaska. Last year, TravelAlaska.com had more than 3 million visitors to the website. TravelAlaska.com banner ads are a visual call to action that will help increase the visibility of your product to potential visitors as they are planning their trips to Alaska.
How This Program Works:
Travel Alaska will host the partner's banner ad on TravelAlaska.com and direct traffic from the banner ad directly to the partner's website. TravelAlaska.com banner ads will rotate through designated areas on most pages of TravelAlaska.com. Each time a reader changes pages or refreshes their browser, new ads are displayed.
URL and artwork can be updated at any time
Ads will run on most pages of TravelAlaska.com (excludes homepage)
For Best Results, We Encourage You To:
Create a banner ad that features captivating images.
Include either a strong call to action or discount.
Avoid large graphic logos unless you believe your logo has brand appeal in the lower 48.
SPECS:
300px wide x 250px high AND 728px wide by 90px high (saved as jpeg, no flash or animation)
Banner ad & supporting landing page must contain your business name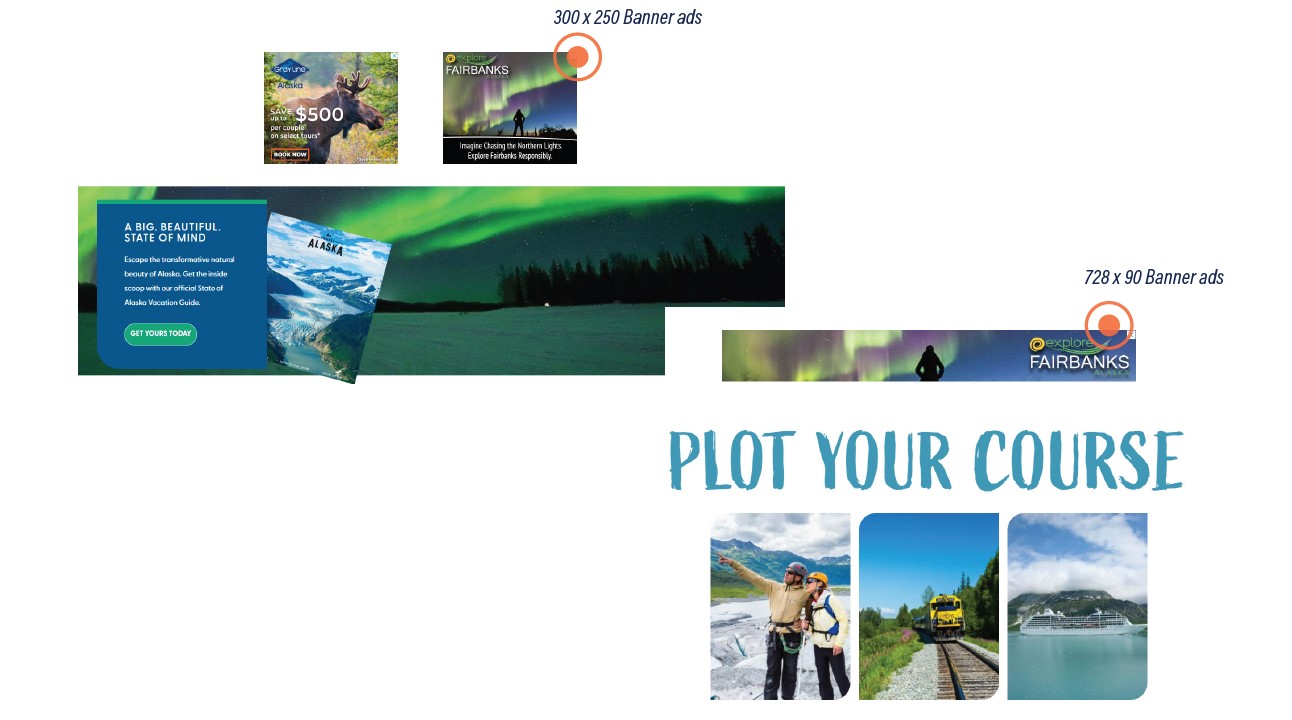 Questions? Contact Skye Hostetler
Sign up today through your Travel Alaska Partner Admin account.
FINE PRINT:
Advertiser must have an active TravelAlaska.com profile ad to be eligible for this program.
Advertiser must have a website to be eligible for this program.
All TravelAlaska.com banner ad statistics (clicks and impressions) are available in the Partner Admin.
DEADLINE: Can be purchased any time
COST: $500 per 100,000 impressions with a minimum order of 100,000 impressions