TravelAlaska.com Sponsored Articles
Travel Alaska has transitioned from blog posts to Sponsored Articles on the new TravelAlaska.com website. Sponsored articles allow partners to promote their own destination or business in the context-rich environment of Travel Alaska's site. Now including more images (up to 6) and 1 month of ROS ads driving consumers to the sponsored article page. Articles will also be included on the website's Travel Articles page for continued traffic after ROS ads are complete.
ROS ads linking to article will run for 1 month
Feature your own content and up to 6 images to promote your destination/product
Limited to 1 partner per month
SPECS:
Content due on the 15th of the month prior
Partner must have an active profile ad to qualify for this program
Content
Content title
Recommended content length: 500 – 1,000 words
Up to 10 links within the content to pages on your site
Website, Facebook, and Instagram links
Please Note: advertisers can only promote Alaska-based products
Images
Up to 6 images (1 hero image and 5 body images)
Image size: 1800 px wide, horizontal orientation
Please indicate which image you would like for hero image, or ATIA will select image that best fits hero image space
ROS Ads
Headline: 25 max characters
Teaser Text: 65 max characters
Ad image sizes: 255 x 340 pixels AND 300×225 pixels
Please note: ROS ads without logos/text on images perform better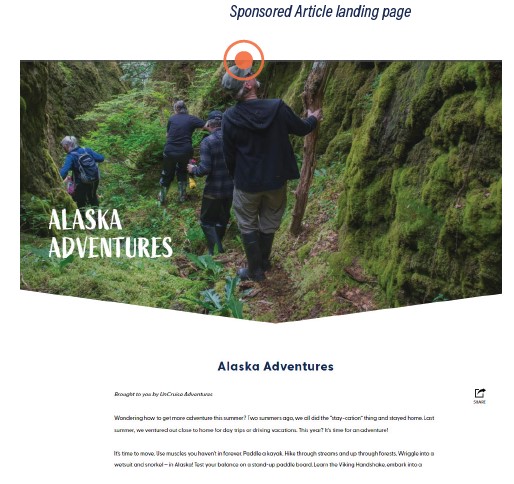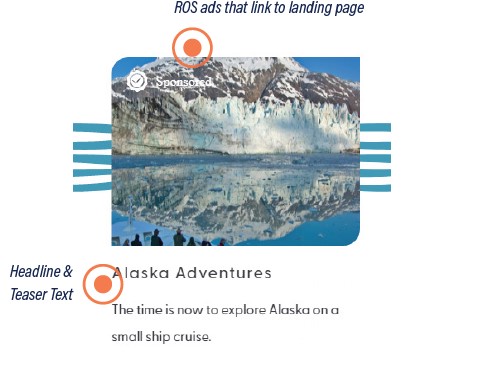 Questions? Contact Skye Hostetler.
Sign up today through your Travel Alaska Partner Admin account.
DEADLINE: Latest: 15th of the month prior (also deadline for content), limited to 1 partner per month
COST: $1,000