ATIA Annual Convention & Trade Show
2023 ATIA Annual Convention & Trade Show:
"Aurora Night Live"
October 24 - 26, 2023
Fairbanks, Alaska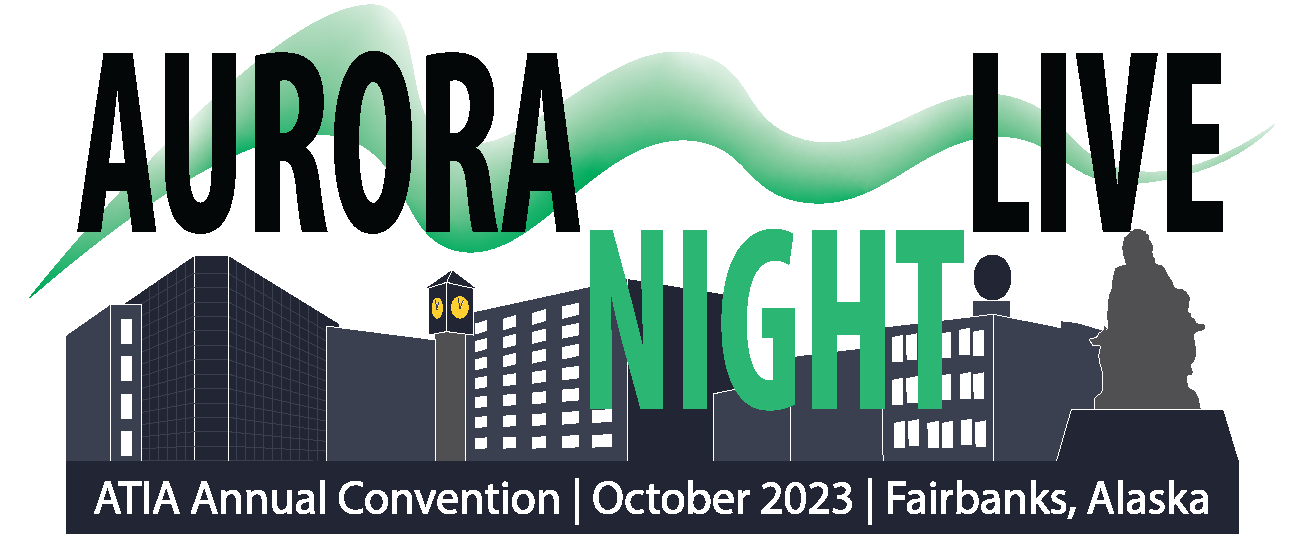 Join ATIA for Alaska's largest annual gathering of tourism professionals. Network with tourism businesses – including tour operators, wholesalers, vendors, destination marketing organizations, and elected officials – while learning the latest travel industry best practices and business skills. We can't wait to see you for "Aurora Night Live" in Fairbanks, either in-person or virtually!
SOLD OUT! In-Person registration is currently sold out due to venue capacity. You can join the waitlist or register for virtual attendance. 
 
How the waitlist works: Sign up to get on the waitlist using the In-Person Registration link below. You will not be charged to be put on the waitlist. When a ticket opens up, the first person on the waitlist will receive an email letting them know that a ticket is available. If you receive the email, you will have 24 hours to go online and purchase the ticket. If you do not purchase the ticket within 24 hours, the registration will open up to the next person on the waitlist.
TO REGISTER:
Log in to your ATIA Member Hub and click "Events" in the top menu. Separate events are listed for in-person and virtual registration. Or, click the links below and log in when prompted.
ATIA's convention remains our association's most valued member benefit and is only available to current ATIA members. Not already a member? Find out how you can join today.
PLEASE NOTE: Convention attendance is capped this year due to venue requirements. Please register early to ensure your spot! We will open a waitlist when we have reached registration capacity, or you can register for virtual attendance. Due to venue and catering requirements, there will be no walk-up registrations at the Convention.
Prices
In-Person Registration:
Convention Ticket: $500
Trade Show Booth & Convention Ticket: $900
New Member Convention Ticket: $400
New Member Trade Show Booth & Convention Ticket: $800
Spouse Evening Events Ticket: $150
Virtual Registration: $100
Convention Location & Schedule
The convention will be held at the Westmark Fairbanks Hotel & Conference Center. Visit our Convention Schedule page for the most up-to-date event schedule. Please note there will be no Summit during the week of Convention this year. 
Flight & Hotel Discounts
Visit our flight and hotel information page for the Alaska Airlines discount code and hotel deals in Fairbanks.
Important Dates
Pre-Voice of the Membership Meetings
In preparation for the ATIA Annual Members Meeting / Voice of the Membership session on Wednesday, October 25, we will be holding Pre-Voice of the Membership regional conversations virtually on October 4 and 6. Facilitated by ATIA Board of Directors, these break-out discussions are for you and your regional colleagues to discuss important topics and share feedback with ATIA. Click here for the schedule and registration information.
Alaska Tourism Shark Tank
Have you been thinking of that great new tourism product, innovation, or service? You have no-fin to lose by applying to present your idea at the returning Alaska Tourism Shark Tank! One of our Alaska "Shark" sponsors may just "chews" your idea to win a cash prize.  Get ready to share your jaws-some idea at the tank! Learn more and apply on our Alaska Tourism Shark Tank page. Applications are due by September 29. 
Sponsorships & Trade Show Booths
Highlight your business with a Convention Sponsorship! Visit our Sponsorships page for more information.
Showcase your business at the Trade Show! Trade Show booths are a great way to extend your reach, network with fellow attendees, and make new connections. You can register for Trade Show in the ATIA Member Hub using the registration instructions outlined above. Questions? Contact Skye Hostetler.
Annual Industry Awards
Each year, ATIA recognizes individuals and organizations who have gone above and beyond to serve Alaska's visitors and the tourism industry. Awards are given for outstanding leadership, professional excellence, entrepreneurial creativity, and/or exceptional community support. The 2023 awards will be presented at the Industry Awards Banquet at the ATIA Annual Convention in Fairbanks. For a list of past award recipients, click here.
Convention Cancellation & Refund Policy
If you need to cancel your in-person convention and/or trade show registration, you may do so for a full refund, less a $100 nonrefundable service charge, until October 16, 2023. Please send your cancellation in writing to [email protected]. Registrants who do not cancel in writing by the published date will be charged and will be liable for the full registration fee. All cancellation requests for in-person registration after October 16, 2023 cannot be processed. Virtual registration is non-refundable.
Convention Sustainability
In an effort to reduce our environmental impact, we have committed to the following sustainability practices for Convention:
Reduce the use of plastic bottles
Encourage use of reusable water bottles and coffee cups
Promote recycling and increase the amount of recycling bins on-site
Reduce printed materials such as signs, flyers, and programs
Switch from name badges with plastic sleeves to recyclable name badges made of post-consumer recycled content
Switch to digital schedule rather than printed schedule
Reduce packaging in food service
Use locally sourced food as much as possible
Use compostable plates and flatware when actual dishes are not available
In lieu of speaker gifts, we will be making a donation to a local non-profit organization
ATIA Convention Sponsors
We can only produce great events through the generous support of our sponsors. Thank you to our partners that have committed to sponsorships for the 2023 ATIA Convention!
Becoming a member of ATIA opens opportunities to benefit and grow your business or organization and strengthens the industry as a whole. Tourism is a top economic force for Alaska and by joining the broad-based membership of ATIA, you help ensure our industry continues to generate jobs and revenue while providing a thriving future for Alaska.