TravelAlaska.com Travel Specials
With over 3 million visitors every year, TravelAlaska.com is the place to promote your travel special or value added to potential Alaska travelers. Visitors are always looking for a deal, and the Travel Specials page is one of the most viewed pages on TravelAlaska.com. Travel Specials are featured on a Travel Specials landing page and link over to a unique landing page for the special, and partners get a "Travel Deal" icon next to their TravelAlaska.com profile ad.
Travel special ads include a captivating image, title, descriptive text, and link back to the partner's website.
Available in four categories: Accommodations, Activities, Packages, and Transportation.
Receive a special icon on your profile ad letting consumers know you're offering a Travel Special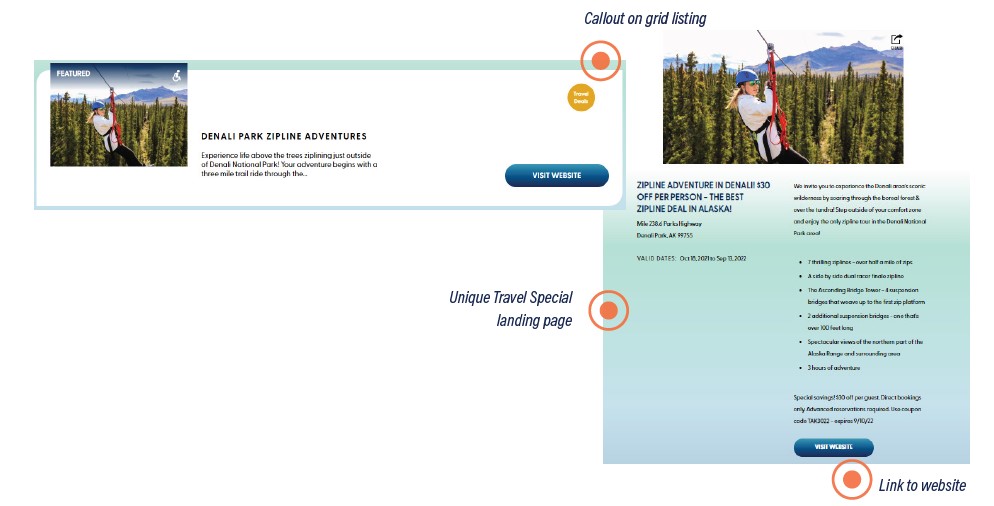 Questions? Contact Skye Hostetler
Sign up today through your Travel Alaska Partner Admin account.
FINE PRINT:
To qualify for a travel special, the advertiser must meet at least 1 of the following criteria:

Offer a discount to the consumer
Offer an added value to the consumer

Advertisers set the start date of the travel special and then chose how many increments of 30 days they would like their special to run.
Advertisers can take down or edit a travel special at any time.
All travel special statistics (clicks and impressions) are available in the Travel Alaska Partner Admin.
Advertiser must have a website to be eligible for this program.
Advertiser must have an active TravelAlaska.com profile ad to be eligible for this program.
DEADLINE: Can be purchased any time
COST: $75 per 30 days