COVID-19 & Healthy Travel Resources for Alaska Tourism Businesses
The Alaska travel industry has continued its commitment to safety during the pandemic and has shown resilience when faced with the new challenges it has imposed. As we prepare for a natural transition to this "new normal," the goal remains the same – to work together to become stronger as we recover.
The Alaska Travel Industry Association (ATIA) along with industry representatives, state health officials, and partnering organizations are providing collaborative recommendations that can be shared throughout our industry and travel community to promote healthy travel in Alaska.
Resources for Travelers to Alaska


It is important to clearly communicate to your guests the current travel recommendations in Alaska, including specific guidelines that pertain to your businesses and the communities in which you operate. The State of Alaska does not require COVID-19 testing, vaccinations, or masking for travelers. However, individual businesses and communities may have their own requirements. Below are traveler information resources that you can share with your guests:
"Ready Together" Tourism Business Resources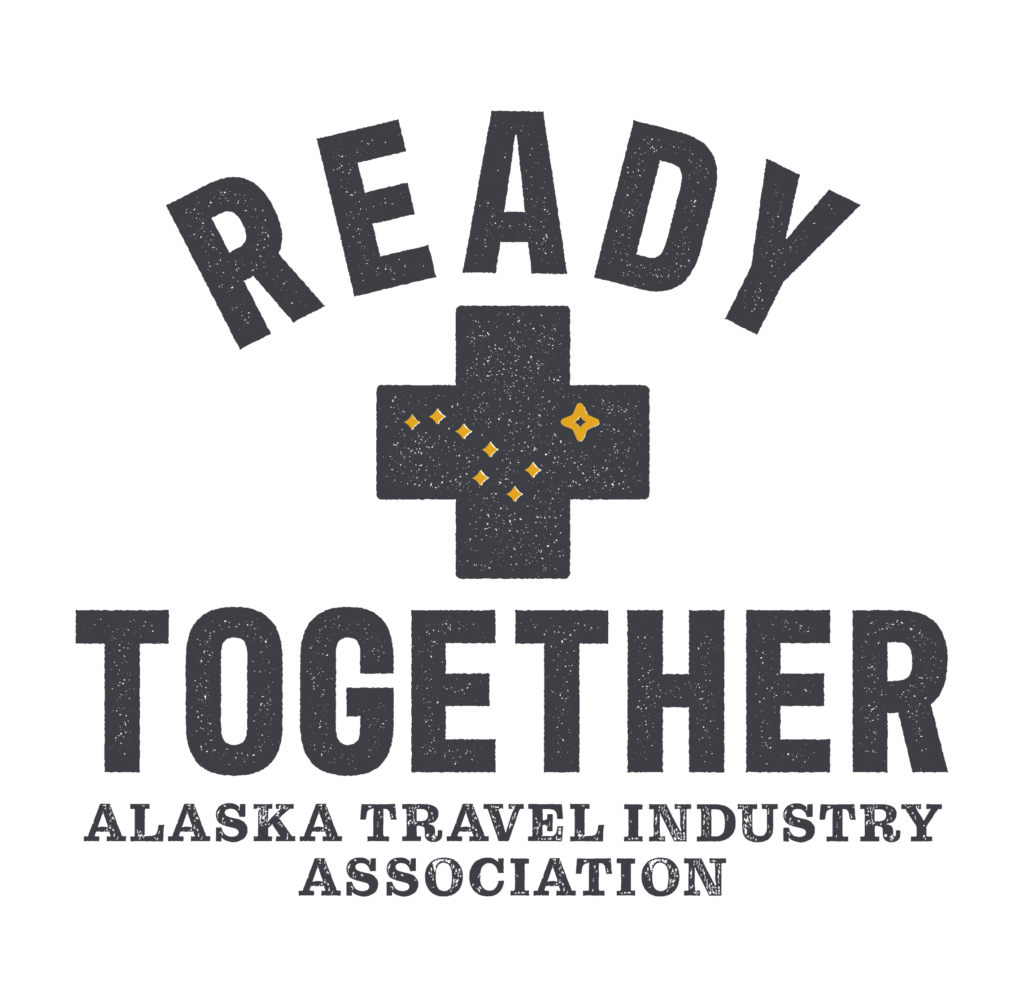 The Ready Together Toolkit includes guidance and resources on healthy travel and safe business operations, including marketing and messaging materials to promote guest safety. It is our goal is to give you the tools you need to operate safely so you can shift your focus to what matters most – bringing Alaska to life for your guests. "Ready Together" is our industry's pledge, as business owners, residents, and visitors in each other's communities, that we are unified in operating safely in Alaska.
Download the Ready Together Toolkit
How to Use (instructional guide)
Overview of what's included in the Toolkit, along with simple, easy-to-follow instructions to make the materials work the best for your business. Click Here
Sample Email to Visitors Prior to Arrival
Help your guests get Alaska Ready– for the elements and for COVID safety. This sample email provides language to communicate Alaska Travel tips and COVID considerations when traveling here. Click Here
Signs for Businesses
Set the standard for your guests to help you operate your business safely. Choose signage that will resonate with your guests and staff to encourage mask wearing, social distancing, hand washing, and testing. Click Here
Social Media Graphics & Sample Posts
Remind your guests how to be ready together and travel safely with these ready-to-use social media graphics and sample posts, which you can edit for your business. Click here for graphics and click here for best practices for these graphics and sample posts.
Ready Together Logos
If you are creating your own signs and materials, join ATIA and industry members in showing Alaska visitors that we are Ready Together. Click Here
ATIA Industry Protocols & Guidelines
A reference document for tourism businesses with guidelines on staffing and operations, cleaning and disinfecting, mitigation plans, and masking and social distancing (contingent on individual business operations and community regulations) published January 2022. Click Here
Becoming a member of ATIA opens opportunities to benefit and grow your business or organization and strengthens the industry as a whole. Tourism is a top economic force for Alaska and by joining the broad-based membership of ATIA, you help ensure our industry continues to generate jobs and revenue while providing a thriving future for Alaska.